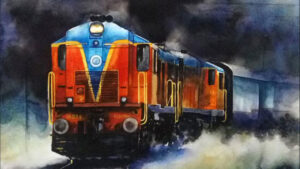 Artist Name:
Title:
Size:
Medium:
Water colours on handmade paper
Ref no:
About the artist:
Born in Calcutta, De studied art at the city's Government College of Arts and Crafts. Thereafter, he moved on to Mumbai to complete his post-graduation from the Sir J J School of Art. Ajay De's paintings continue to be shaped by his childhood memories. As an introvert, he often found himself at a loss for words, until he discovered the joy of putting pencil to paper to draw and express his feelings. His life, and the experiences that shaped it, were a source for inspiration. All his paintings reflect the complexities and troubles that besiege modern day society. He has exhibited extensively in Mumbai, Bangalore and Calcutta. The artist lives and works in Mumbai.
Contact for More Information Availability and Price
Price:
Error: Contact form not found.