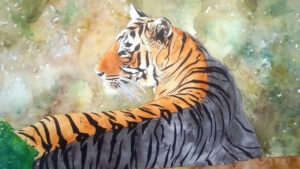 Artist Name:
Title:
Size:
Medium:
Ref no:
About the artist:
Born in Jaipur Rajasthan, India on 1-5-1971,The country which had been so rich in its flora and fauna, but with the change of time it is declining at a very rapid speed. Wildlife and the outdoors have always been Ajay's love and creating them on canvas is his passion. Even as a child he loved animals and nature's beauty and Ajay would bring them down on paper. When in Mayo College, Ajmer,his ex-school, he picked up finer lines on art. Here he learnt how to grind his own pigments and make his own colours from vegetables and rock pieces and also mediums. Though he has been using all possible colours available but as a artist, Ajay was not satisfied and experimented with a new and different medium called cellulosic paints on compressed boards. He found the technique very fasinatic and the final result of painting which satisfied his artistic soul. Ajay's studio time is filled with paintings for major art works, contest and animassion works. About his art work:- Over the last several years Ajay'attention has been for using his art work for the cause of the preservation of wildlife and its habitat through the organizations supporting the cause. Ajay likes to paint in contemporary style and also in its realistic form.  Ajay was invited by the Mr. George Archibald, founder, International Cranes Foundation Wisconsin, US to make paintings on cranes for a group show which was displayed at various galleries/places around the world. Mr. Edward McCrea, President of Environment Education and Global Conservation (EECG) invited him to do a painting of the pintailducks which was used as a logo of International Migratory Bird Day-2005,Rochester, New York.
Contact for More Information Availability and Price
Price:
Error: Contact form not found.